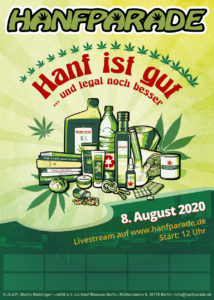 In our previous news, we still assumed that the Hanfparade 2020 would take place as planned, but the clearer the effects of the Covid 19 pandemic and the time frame of the state of emergency became, the clearer it became to us as an organizing team that we can not make plans in this uncertain situation. Contracts for stage construction, bands, stands etc. should now be closed and it is still not at all certain whether the Hanfparade as a large demonstration march with parade trucks, opening and closing rally, stage, stands and tens of thousands of participants could really take place this year.
Therefore, the next Hanfparade will take place on Saturday, August 8, 2020 on the Internet. It traditionally starts at 12 noon. The livestream will be shown on our website (www.hanfparade.de).
Just like a "real" Hanfparade, there will be a colorful quality program with speakers, music and information. Though it will not be a march through Berlin, but a march through the Internet. This year, our speakers will not be on a large stage in Berlin, but will speak with live video or prepare a contribution. The participants in this year's Hanfparade, that is, the stream audience can interact and comment live.
We are aware that this cannot replace a real Hanfparade. That is why we are already planning the Hanfparade 2021 as it should be: as a huge demonstration on the street. More on this soon.